Server Developer
Staff member
Messages

1,911
Reaction score

224
Patch Notes, release date: 11.11.2023

The Demonic Sword Zariche
Added the weapon of slaughter,
The Demonic Sword Zariche
(hereafter
Zariche
), which was once used by the Demon Bremmnon, one of the four demon kings.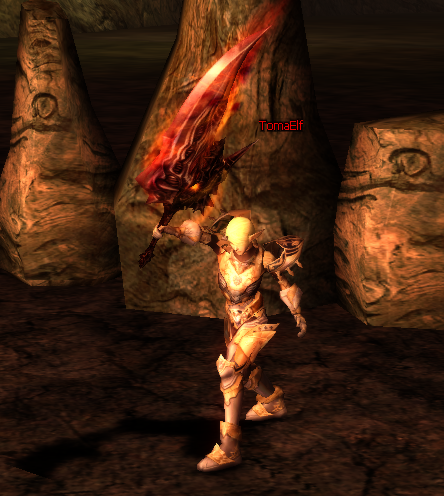 Drop Rate and Possession Rules
All monsters in the world have the potential to drop it. However, only one of these exists in the whole world.​

It is impossible to drop, exchange, or destroy this item from your inventory.​

When Zariche is dropped in the world, the entire world becomes dark for a short period of time, the ground shakes, and a system message notifies all players that the demonic sword has been found.​

The character that acquires Zariche goes into a chaotic state (red) instantly, and his/her HP, CP, and MP are fully recovered (100%).​

Once obtained, the character's karma becomes maximized. Unless Zariche leaves the character, the character will always have karma.​

When a character acquires Zariche, it is equipped automatically and is impossible to un-equip.​

Zariche automatically disappears after a certain period of time (once acquired).​

Zariche will automatically expire 24 hours after the final PK with the sword.​

When a character who possesses Zariche dies, it disappears or is dropped immediately.​

Zariche will still automatically leave its owner at the appropriate time regardless if they are logged in or not.​

The character who possesses Zariche will be notified by a system message with how much time is remaining before Zariche leaves.​

The location of the cursed weapon Zariche can be identified on the mini-map.
When a player that carries the Zariche is killed, the ratio of sword's drop and automatic expiration is 50:50.
Wars and Parties
The following will be applied to the character who possesses Zariche in PvP, clans wars, and in parties.
A player carrying Zariche cannot attack players that are level 20 or lower. In the same respect, players must be level 21 or higher to attack the character wielding Zariche.​

When striking (excluding magic and physical skills) players, including Heroes, their CP is instantly reduced to 0.​

When a Hero strikes (excluding magic and physical skills) a character wielding Zariche, the CP of that character is instantly reduced to 0.​

PK penalties such as experience point loss, item drops, karma increases, etc. will not be applicable to either side when a player wielding Zariche is involved.​

A player wielding Zariche cannot join a party with other players.​

If a player acquires Zariche while in a party, that character is automatically withdrawn from that party.​

The player wielding Zariche cannot use the party matching system or command channel.​

The player wielding Zariche cannot teleport the inside of the Monster Race Track.​

The player wielding Zariche cannot take participant in the Great Olympiad.​

The player wielding Zariche cannot give or accept buffs and may not be healed or heal other players. However, he or she may use buffs and heal themselves.​

The player wielding Zariche may summon a pet/servitor, but may not ride a pet.​
마검 자리체 첫 등장, 그 성능은 과연?